We are a collective of designers committed of using innovation & sustainability as our core. We are based internationally but we are keen to positively impact ancestral industries such as the peruvian metalsmithing one.
Our Designers
Andrea Jose showed her passion for jewellery since she was 8 years old, by creating her own bijouterie collections. This passion became more latent during her teenage years which then, let her to travel to the highlands of Peru to learn jewellery techniques with master artisans. Her designs combine a deconstructive design, which does not use geometry and instead, work with evolving, continual and non-structural shapes. 
AKIYO MATSUOKA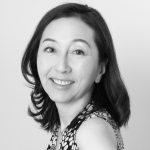 Akiyo launched her design career in 1993 with an assignment to develop pieces for the Escada 1994 spring/summer and fall/winter jewelry collections. She was selected as a 1994 Diamonds-International Awards finalist and graduated with honors from Parsons School of Design in New York City.